Recommended for ages 21+. Show up to the shop with all your drinks, snacks and supplies and we will take care of the rest!
We will drive you to the put-in area and get your on the water with all the gear your reserved. We will then meet you at the takeout, collect the gear, and drive everyone back to Bozeman.
Need something for your float? Madison River Tubing has coolers, standup paddle boards, waterproof bluetooth speakers for rent as well as ice, water shoes, t-shirts, sunglasses, sunscreen and hats for sale at the shop.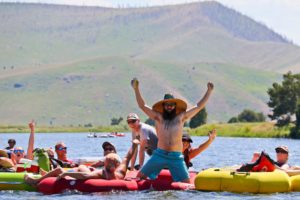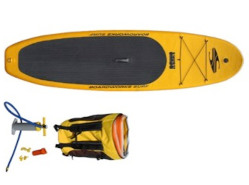 Wilkes Barre
$50
Groups
The Madison River Tubing Trip SUPgrade
Enjoy the trip with a Standup Paddle Board instead of a tube. SUPs are a great way to get a new perspective on the water. These boards are versatile and allow you to lay down, sit, kneel or stand. You can even paddle circles around your tubing buddies to get a little workout in! Tubing with a group? Just one SUP upgrade allows the group to trade off, so everyone gets to try!
RESERVE NOW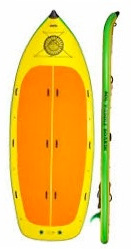 Plainfield
$65
daily
SOLs FIESTA
The Fiesta is the party barge of Standup Paddle Boards. This SIX PERSON board will get all your friends together for some team building, bonding and surely a few laughs.
RESERVE NOW
25QT Hard Cooler with Ice and Tube
$20
We have 25 quart hard side coolers that conveniently fit into one of our deluxe tubes. We also provide the ICE! If you already have your own 25 quart cooler we can rent you just the tube to float it.
Waterproof Bluetooth Speaker
$10
Liven up the float with your own playlist. Bluetooth speakers will pair easily with your mobile device so you can turn your float into a party!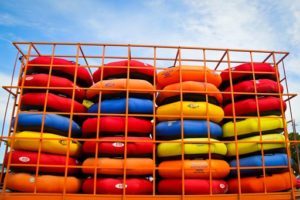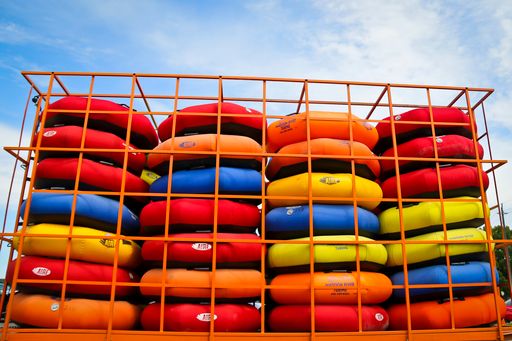 Cancellation and Payment Policy
Cancellations made 48+ hours before trip time will receive a full refund. Customers will also receive a full refund in the case of operator cancellation due to weather or other unforeseen circumstances. If you cancel 48 to 24 hours before your trip you will be charged 50%. If you cancel within the 24 hours before your trip you will be charged 100%. No-Call No-Shows are charged the full price.
We are not responsible for or able to control changing weather during your trip. We typically do not cancel due to weather, so it is YOUR RESPONSIBILITY to cancel with 48 hours notice.
The card that we have on file for your reservation will be the card that we charge the day before your trip. If you need to change your payment method, please call us as soon as you know this. We are happy to update this. We will NOT accept cash at the meeting location of your trip.
Emergency Water Evacuation
We drive the river all day. This does not mean we are your rescue crew. This is a shuttle service, not a guided trip. If you must exit the river due to weather:
-DO NOT pull out of the river on the side of the highway (it is wicked busy and our busses and trailers cannot just pull over and load you up into our rig).
-DO pull out of the river at fishing access lots/dirt road side of the river.
-If you see one of our vehicles (we are hard to miss) try to make eye contact and put your arms straight out at each side (so you look like a cross) and our driver will know you need picked up.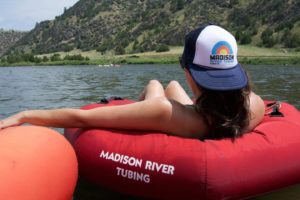 Things to Remember
-No Glass!
-No Flip Flops!
-Do not be late to your trip.
-Do not be late to the shuttle at the end of your trip.